Inset Day
We will be closed for staff training on Monday 24th June where we will be developing curriculum planning for the new academic year.
Craneswater Choir
On Tuesday 2nd April, Craneswater choir went to sing at Bluebell Nursing Home. We sang 8 songs to the residents to entertain them. One song was "Ho Hey" which is our favourite. We also sang some other songs we knew from singing assembly and some that we learnt in choir especially for the trip. We enjoyed "Let's Twist Again" because we got to dance the twist! Some of the residents even joined in!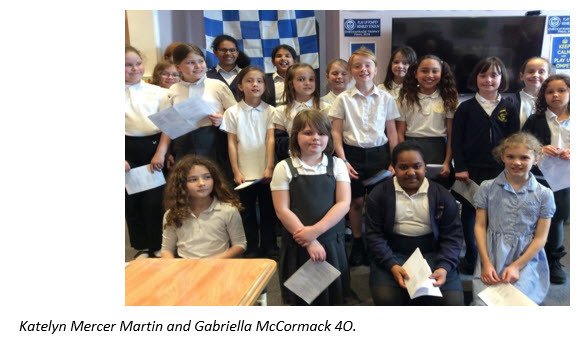 Year 4 Swimming
4R will beginning swimming on Tuesday 14th May. Please ensure your child has their swimming kit in school.
PTFA – Waitrose Donation
We are excited to announce that for the month of April Craneswater is one of the three 'good causes' being included in the Waitrose Community Matters green token scheme. Waitrose donate £1000 between the three causes and the value to each depends on the amount of green tokens in each. So if you are in Waitrose please think of us and pop a green token in to our collection box.
SATS
A reminder to our year 6 parents that SATS week is from 13th to 16th May. Please ensure that your child is in school and on thime that week.
Romeo and Juliet
30 students from across year 5 had the opportunity to go and see Romeo and Juliet at the New Theatre Royal. We had to sit on the stage so we were up close. We went with two other schools. The actors were: Romeo, Juliet, Romeo's friend Benvolio, Juliet's cousin Tybalt and the priest. At the end we got to ask the actors questions about their lives and what they felt (as Romeo and the others.) The actors used old English (e.g. 'thee') and had fake knives and fake blood pouches under their tops. When they used the fake knives and stabbed each other, they popped the pouches and it got onto their shirts so it looked like they had been stabbed. We loved the performance!
Parent Information
On our website there is a large amount of information regarding parent support. This includes health, behaviour support and children's mental health and well-being guidance. This can all be found: Information - parental support. If you can't find the help and support you need here please contact our office who will be able to put you in contact with one of our pupil and parent support workers.

Absence Reporting and Communication
At the moment you are able to contact us using telephone, absence voicemail, text message and email. We have now signed up to the 'Studybugs App' and would like to ask parents and carers who haven't yet done so, to download the app as well. If you do not have a device that works with Studybugs you can use it on your computer. It is a simple system to use whereby you load the app and then communicate with school by the Studybugs text message or email. When using the app to report your child's absence the absence mark and reason get posted directly on the school registers which makes the morning registration process quicker and enables us to contact parents who's child is unaccounted for.
The system is more cost effective for us which means more money in the budget for other vital purchases.
We will no longer be using the PS Connect texting system that we currently use after the May half term and will predominantly be using Studybugs. Please give it a try. If you have any questions or problems, contact the office and we will be more than happy to help.
Sports Events
We have competed in a number of events recently including:
- Aquasplash for year 4 where we entered two teams and came 5th and 8th out of the Portsmouth schools

- Gymnastics where we have now been invited to attend the Havant and Portsmouth finals

- Tag rugby where we entered two teams

- Multi sports involving handball and seated volleyball

- Sportshall athletics where the boys came first, girls came second and we came first overall

- Basketball

- Cross country – where several children competed in the county finals

- Football for Year 5

- Badminton
Assembly Dates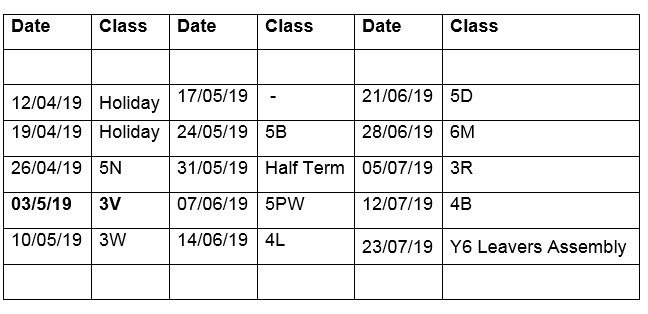 Please see class assembly dates for the spring and summer term. You are very welcome to come and share your child's class assembly. They all take place in the hall and start at 2.30pm promptly. Please come to reception and sign in.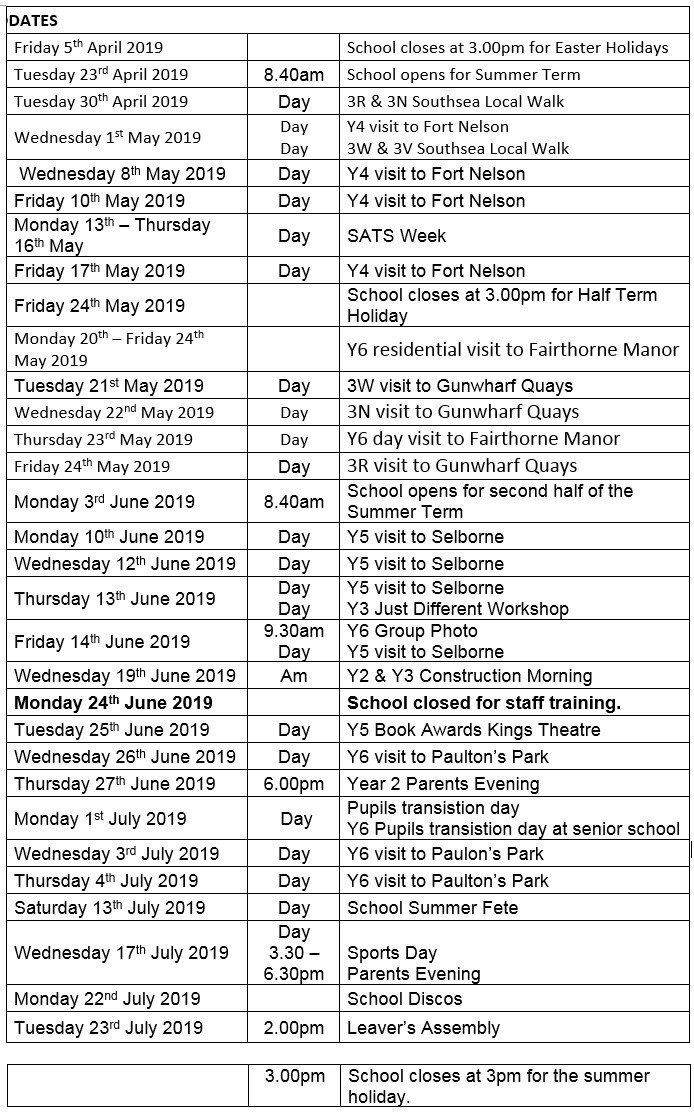 Half Term
We will be closed for staff training on Friday 15th and Monday 25th February.We hope all the children have an enjoyable half term and look forward to seeing you all back on Tuesday 26th February.

Assembly dates

Please see class assembly dates for the spring and summer term. You are very welcome to come and share your child's class assembly. They all take place in the hall and start at 2.30pm promptly. Please come to reception and sign in.


• Date • Class
• 01/02/19 • 4R
• 08/02/19 • 3N
• 15/02/19 • INSET
• 22/02/19 • Half Term
• 01/03/19 • 5D
• 08/03/19 • 4O
• 15/03/19 • 5B
• 22/03/19 • 4L
• 29/03/19 • 6C
• 05/04/19 • -
• 12/04/19 • Holiday
• 19/04/19 • Holiday
• 26/04/19 • 5N
• 03/05/19 • 4L
• 10/05/19 • 3W
• 17/05/19 • -
• 24/05/19 • 5B
• 31/05/19 • Half Term
• 07/06/19 • 5PW
• 14/06/19 • 3V
• 21/06/19 • 5D
• 28/06/19 • 6M
• 05/07/19 • 3R
• 12/07/19 • 4B
• 23/07/19 • Y6 Leavers Assembly

Year 3 will be putting on an Easter performance on Thursday 4th April in the afternoon

Thursday 31st January 2019 -- 5.30pm to7.30pm -- Parents Evening
Friday 15th February 2019 -- School Closed for Staff Training
Monday 18th February 2019 -- School Closed for Half Term
Monday 25th February 2019 -- School Closed for Staff Training
Tuesday 26th February 2019 -- School Opens for second half of Spring Term
Friday 1st March 2019 -- World Book Day
Monday 25th March -- School Closed for Staff Training
Monday 18th to Friday 22nd March 2019 -- Year 5 Stubbington Residential
Thursday 4th April 2019 -- Afternoon (time to be confirmed) -- Year 3 Easter Performance
Friday 5th April 2019 -- School Closes at 3.00pm for Easter Holidays
Tuesday 23rd April 2019 -- School Opens for Summer Term
Monday 6th May 2019 -- School Closed for May Bank Holiday
Friday 23rd July 2019 -- School Closes at 3.00pm for Summer Holidays


--------------------------------------------------------------------------------------------------------------------------------------------------------------------------------------------------------------------------------------------